Spoil your loved one with a beautiful bouquet of flowers or roses. We have selected some of the best online florists to make your selection a breeze. You will find a great range of flowers to browse and buy online.
A traditional presentation, this dozen striking rainbow mixed roses bouquet is the perfect gift to send to your loved ones.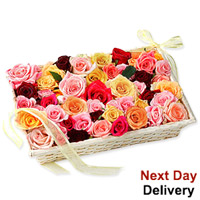 Bed of Roses – $77.99
A profusion of roses in warm shades of pink, red and yellow are clustered together in an adorable woven basket.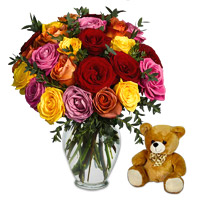 Marvel 24 Assorted Roses – $159.99
A colorful and spectacular mix of diverse blooms creates this vibrant bouquet of 24 long stemmed black magic, cool water, lavender, skyline, coffee break roses elegantly wrapped in a decorative sleeve and hand packed in an attractive vase.
Rose Color Meaning – Symbolism
By Joe Griffon
There are so many different kinds of roses and colors. There is a roses color meaning for each different color. Automatically everyone can see the symbolism of love with all kinds of roses, but the true symbolism comes from the color of the bloom. Here is a list of most colors.
The Red Rose: This rose is the most popular of all roses. This is rose symbolizes love, the deepest love, passion and romance. They can also symbolize courage, perfection, and beauty. The darker, burgundy roses can symbolize something beautiful that is not recognized.
The Lavender Rose: A beautiful rose with a symbolism for elegance, royalty, and enchantment. Romantic expressions are often used to symbolize romance. It can be used to mean love at first sight. Of all the roses, this is the best way to show appreciation.
The Pink Rose: For a gentler affect, the pink rose out does the red. Light pink symbolizes happiness, elegance, grace, admiration, fun, and sweetness. Darker pink roses mean you want to show appreciation or gratitude.
The Blue Rose: A symbol of great mystery. This rose symbolizes a true desire that can't be obtained. This rose is like a mystery that cannot be solved. Blue roses cannot be grown without being colored by the grower.
The Coral Rose: These roses can mean you have great passion for something. It can also be a symbol of excitement and desire. This rose is good to give, to show appreciation for someone else's accomplishments. These are the roses of good luck.
The White Rose: White roses are the symbols of innocence, purity, spirituality, and secrecy. White roses can be given to show great respect. The pedals are often connected with new beginnings and weddings. They are also used for remembrance with funerals.
The Yellow Rose: These pretty flowers are the symbols of new relationships. They can be given to show that you are willing to give someone a second chance. Other meanings are to show friendship, delitght, joy, and happiness. These are most given to graduates, new mothers, and newly weds. Perfect ways ro express kindness.
The Orange Rose: Orange roses are some of the most unique. They have a meaning of energy, enthusiasm, desire, and passion. They are given to help show that someone is ready to move past the "just friends" stage in a relationship. The perfect way of showing you have desires for romance.
The Peach Rose: The meaning of peach roses are not very clear. They can mean gratitude, but at the same time sympathy. Modesty is another characteristic of this particular rose because of the natural gentleness. Often, the peach rose is given to close a deal.
Article Source: http://EzineArticles.com/?expert=Joe_Griffon
http://EzineArticles.com/?Rose-Color-Meaning—Symbolism&id=2892433